Sonic the Hedgehog has come to The Hive! For the next two weeks, you'll be able to explore Green Hill Zone in the hub, play six brand new and exclusive Sonic-themed party games, and of course, collect Gold Rings, that can be spent at the Ring Shop to unlock exclusive Sonic-themed cosmetics!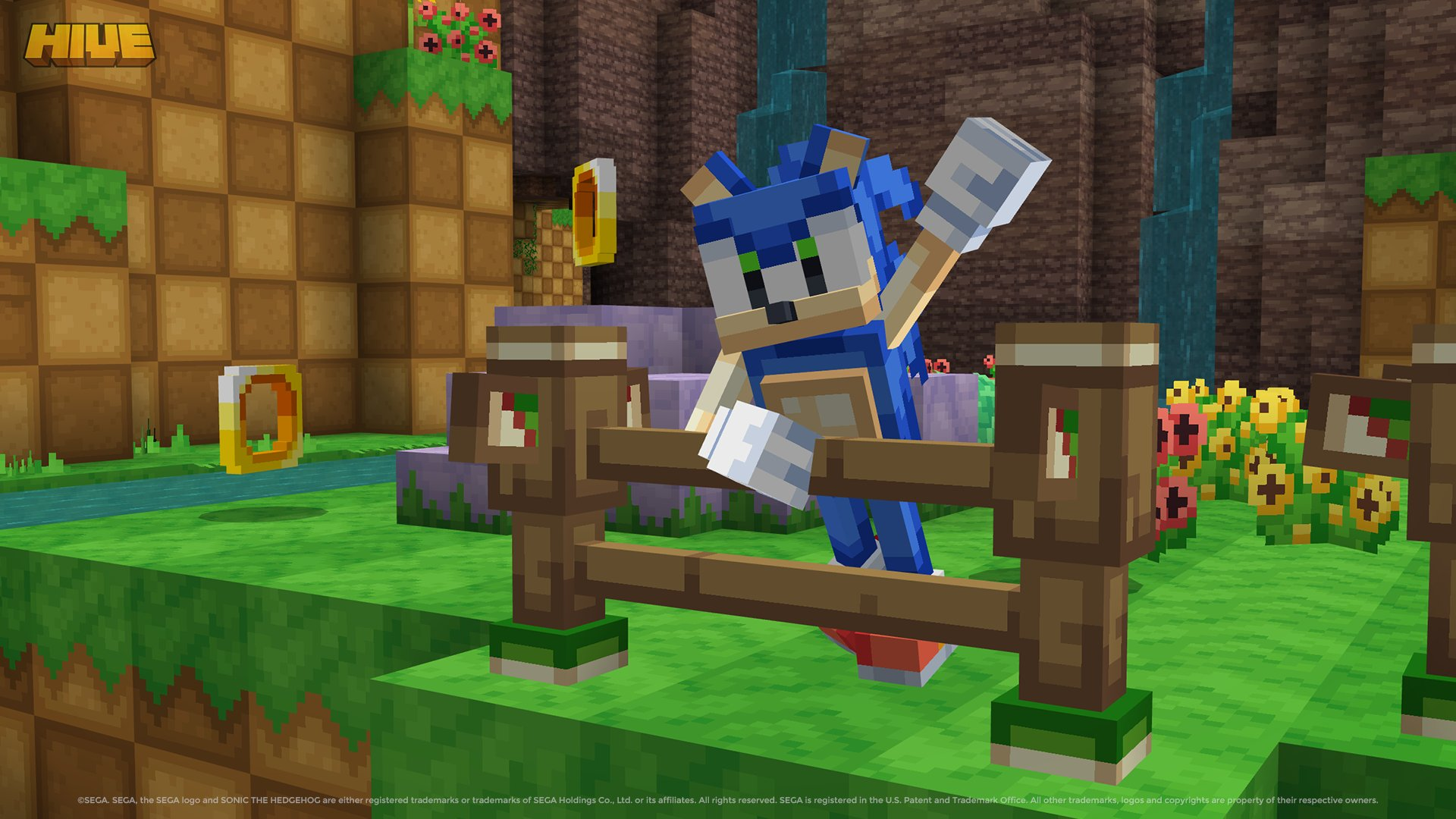 This article contains everything you need to know about the event!
Complete Hub Takeover
The hub has been completely transformed into Green Hill Zone! Get ready to explore, and take on a wide range of never-seen-before parkour courses, there might just be some Rings in it for you!
Be careful though - I've heard that some of the parkour courses contain deadly traps!
Sonic's Party Games
From rescuing Chao to shooting down Badniks, battle against your friends in six epic Sonic-themed party games! Each game features an awesome Sonic-themed world, complete with custom blocks.
Chao Rescue
Eggman has kidnapped Chao from their homes! You must work together with other players to find and rescue as many Chao is possible, by bringing them to the safe zone in the middle of the map, before the timer runs out.
Ring Royale
Speed around the map collecting rings in this epic PVP battle brawl! You can use your handheld laser to zap other players, and steal their rings, but be sure to avoid being zapped yourself, or you'll be stunned and lose some of your rings!
Ring Dash
Using Sonic's Spin Dash ability, you'll need to race against other players to go through as many of the giant floating rings as possible! Rings will spawn randomly across the map, and points will be awarded for each Ring you go through.
Red Light Green Light
Put your parkour and reaction skills to the test in this epic race! You'll be competing against other players to get to the finish line, but make sure to pay attention to the traffic lights - if you move when the light is red, you'll be sent back. Look out for obstacles too!
Go Fast
DeathRun players might have a slight advantage in this game! You'll be racing against the other players to be the first to finish the course. You'll need to be careful though - springs, moving platforms, Badniks and more will all be standing in your way!
Badnik Range
I hope you've been practicing your archery skills! This epic shooting game will see you destroying Badniks with your zapper. Be on the look out for the elusive golden Badniks, they're rarer and faster, but you'll be rewarded with more points for destroying them!
Leveling Rewards
The following rewards can be unlocked by leveling up in Sonic's Party Games:
Level 2 -

The Ring Collector hub title

Level 3 -

It's running time! hub title

Level 4 - 50 Rings
Level 5 -

HedgePOG hub title

Level 6 - 75 Rings
Level 7 -

CHAO! hub title

Level 8 - 100 Rings
Level 9 - 125 Rings
Level 10 - Knuckles Costume
The Ring Shop
After a long day of conquering all of the parkour courses that Green Hill Zone has to offer, you'll no doubt have collected plenty of Gold Rings to spend. The Ring Shop is the place to do just that!
The Ring Shop can be found at the front of the hub, and features a wide range of awesome cosmetics to spend your hard-earned Rings on. The best part is, whatever you buy from the Ring Shop will be yours to keep, forever! Can you collect all of the cosmetics?
Ring Shop - Unlockable Cosmetics
You can earn rings by completing parkour courses in the hub, and by playing and leveling up in Sonic's Party Games. If you complete enough of the parkour, and manage to level up far enough, you will gain enough rings to unlock everything in The Ring Shop.
All of the cosmetics that can be unlocked at The Ring Shop can be found below:
Global Unlocks:
Sonic Costume (200 rings)
TreasureWars Unlocks:
Motobug Bridge Builder (100 rings)
Dark Chao Treasure (100 rings)
Hero Chao Treasure (100 rings)
Chao Treasure (50 rings)
Sonic Item Box Treasure (50 rings)
Ring Treasure (25 rings)
SkyWars Unlocks:
Eggman Spawn Vehicle (100 rings)
Eggman Island Flag (50 rings)
Sonic Island Flag (50 rings)
Survival Games Unlocks:
Spring Spawn Podium (50 rings)
Totems Spawn Podium (50 rings)
DeathRun Unlocks:
Eggman Death Skin (100 rings)
Sign Post Death Marker (50 rings)
Red Ring Death Marker (25 rings)
Hide and Seek Unlocks:
Sonic Block Eyes (100 rings)
Sonic Block Hat (100 rings)
Sonic Block Legs (25 rings)
Murder Mystery Unlocks:
Omochao Gravestone (100 rings)
Chopper Throwable (25 rings)
Eggman Gravestone (25 rings)
Frequently Asked Questions
How long will the event last?
The event will start on July 12th, 2021, and last for 2 weeks, concluding on the 26th of July.
Will I need to purchase anything to take part in the event?
The event is entirely free to play, all cosmetics will also be unlockable for free!
What version of Minecraft do I need to play?
For the best experience, and to be able to play Sonic's Party Games, you will need to use version 1.16.210 or above.
You can join The Hive and play all of our other games with version 1.16.100, but you will not be able to play Sonic's Party Games with this version.
Is it possible to unlock everything from The Ring Shop?
Yes! You can earn more than enough rings by completing parkour and leveling up in Sonic's Party Games to unlock everything.
Will I be able to keep the cosmetics that I unlock during the event?
Yes! All cosmetics that are unlocked during the event will be retained permanently by the player.
What's inside the vault under spawn?
We're not entirely sure, all we know is that we tried knocking and we heard some weird noises...